Safety Tips for Oil Heat
Heating Oil is a safe fuel source, but there are some tips that can help keep your family safe.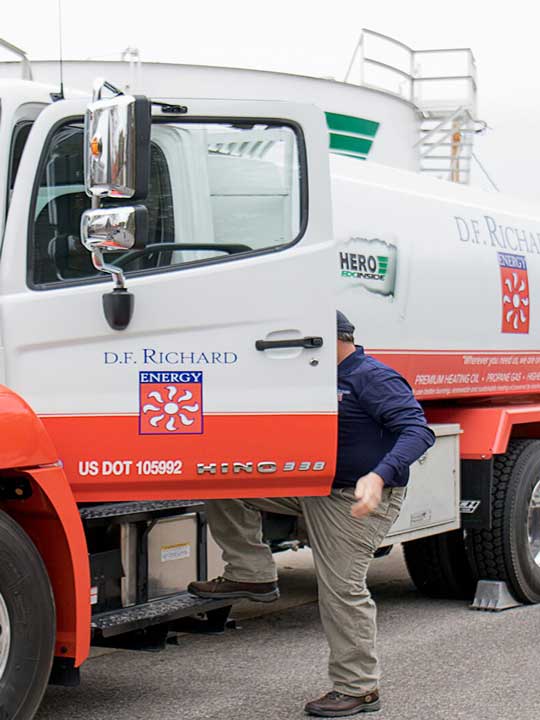 Oil Storage Tanks
Safety is a prime concern for our D.F. Richard Energy team. We inspect all new customer oil tanks before making a delivery.
It is also important that you periodically check your fuel oil storage tank for defects that could lead to a leak. Leaking fuel oil can contaminate water and soil as well as damage property and affect indoor air quality.
Anytime you need assistance with an inspection, please contact D.F. Richard Energy.
What To Do If You See An Oil Spill/Leak
If fuel oil is leaking from your storage tank or piping, contact D.F. Richard Energy or your local fire department immediately. Please also make an attempt to contain any leaking oil, especially trying to keep the oil from entering any floor drains or sump pump areas.
We do not recommend that you attempt to repair an oil leak by yourself. Please contact D.F. Richard Energy for assistance.
Appliance Burner Safety Controls
Oil burning appliances are equipped with safety controls for your protection. These controls are designed to shut the burner off if they detect something is wrong.
The controls also are equipped with reset buttons that may be reset by you when the appliance burner has shut off. However, for your safety, burner manufacturers recommend you only push the reset button one (1) time in an attempt to restart the burner.
If the appliance does not operate once this has been done, please call D.F. Richard Energy.
Appliance Cleaning and Maintenance
D.F. Richard Energy, appliance, and oil tank manufacturers recommend having all oil burning appliances and oil storage tank serviced on an annual basis.
For your safety, annual tune-up of heating systems will also assess that all safety controls are working as designed.
Avoid Keeping Combustibles Nearby
Never leave combustible materials or flammable liquids near your oil furnace. Even though appliances operate at lower temperatures, there is a fire danger when these types of materials are nearby.
Remember that regular maintenance of your home heating oil system is a good investment. D.F. Richard Energy offers service protection plans that include annual tune-ups that could diagnosis a small adjustment or repair before it becomes a more major problem.